Gradient Start (
GradientStart

)

The GradientStart property defines the edge of the area frame or entity from which to start shading the gradient background color. The shading ends at the opposite side.

Example: "GradientStart=bottom"
Usage
| | |
| --- | --- |
| Dynamic? | Yes for entities, No for area frames |
| Supported in Grid? | No |
| Dependencies: | |
Setting in ProcScript
For the entities, this property can be set in ProcScript using the $entityProperties or $curEntProperties commands.
variables
  string vProperties
endvariables

putitem/id vProperties,"Borderradius","20px"
putitem/id vProperties,"backcolor","darkseagreen"
putitem/id vProperties,"backcolorfill","gradient"
putitem/id vProperties,"gradientstart","bottom"
putitem/id vProperties,"gradientstartcolor","lightblue"

$entityproperties(ORDER.SALES)=vProperties
Result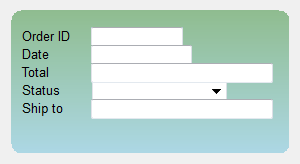 Setting in Initialization File
For area frames, you can specify this property on the basis of frame names in the [areaframes] section of the .ini. It is not possible to set this property in the Uniface IDE. For more information, see [areaframes].
[areaframes]
frame_gradient=uframe(backcolor=blue;backcolorfill=gradient;gradientstart=bottom)